May, 2014 marks the 16th anniversary of the opening of The Barn Antiques and Specialty Shops.  That's right, The Barn opened the doors to the public 16 years ago…seems like yesterday.
The Barn has grown immeasurably over the past decade and has become a significant part of the community as well as a fairly big business…but NOT in the way BIG BUSINESS is defined these days.  We are definitely different.
I thought I might take a minute to describe the magic of The Barn:  we are NOT publically held (we have no stock holders) we do NOT pay anyone a minimum wage (there are no employees) and we are NOT a company solely in business so that we may be purchased by a bigger fish in the food chain.
The Barn Antiques and Specialty Shops is made up of over 30 independently owned Small Businesses in a small Douglas County Community called Castle Rock, Colorado.  Each business owner enjoys the American Dream….the opportunity to own and operate a small business in the United States of America.  The bonus at The Barn is that these small businesses can come together and operate among other like-minded small businesses in order to form a larger, more cohesive operation that attracts thousands of local and out of state customers every year.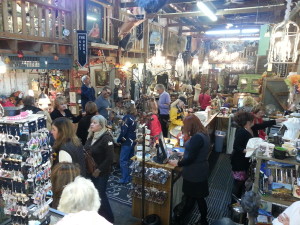 Each of these businesses in The Barn is owned and operated independently, so when you shop at The Barn and check out at the main counter, you are meeting several of the small business owners as they volunteer their time on behalf of the larger business…the Barn.  They do this because it benefits the whole team….which in turn, benefits each business independently.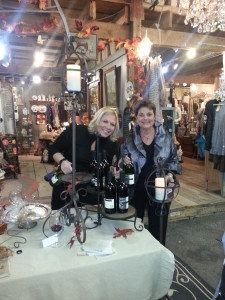 (Meet Kristin and Gloria helping at one of our MANY special events!)
So, you see, while I do own and operate the business called The Barn Antiques and Specialty Shops (The Barn), what I am really doing is bringing together a remarkable number of small business owners under one roof so that they may operate their own successful small business amongst a team of other successful small businesses….it is a small business galleria or specialty shop mall!
No…we will never be as big as United Airlines, Gerber Foods, Walmart or Shell Oil Company….but that is not our intent.  We at The Barn strive to make the concept of Small Businesses a reality…small business is what the backbone of this Country is meant to be.
So, when you shop at the Barn, you are definitely supporting over 30 small businesses in your community so that the owners may pay their mortgages (or rent), send their children to music classes or simply put food on the table.
The Barn Antiques and Specialty Shops has been proud to be a part of the Castle Rock and Douglas County community for the last 16 years….we are Small Business minded and that is what makes us different!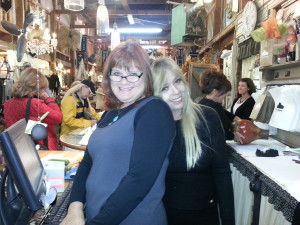 (Say "Hi" to Linda and Amy!!)
Love,  Catherine