January is a notoriously volatile month weather-wise in Colorado. It could be sunny and warm-ish one minute and below zero the next.  Coloradans are used to this kind of weather and usually weather does not keep us from getting out of the house!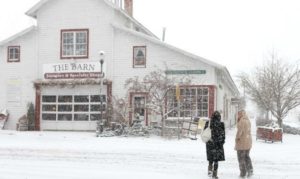 The Barn has its own set of weather conditions….and they largely mimic what is going on outside. No, it doesn't rain or snow inside The Barn, but if it is cold outside, The Barn can be kind of chilly.  If it is hot outside, The Barn can be a little warm.  There is nothing that can be done about this weather phenomenon because, well, it is a BARN after all!
When I first opened The Barn Antiques and Specialty Shops almost 20 years ago, I was a little concerned that our customers might be uncomfortable shopping in our 'indoor weather conditions'. I need not have worried.  Customers comment year-round that they are so glad they can comfortably keep their coat on in the winter (without overheating) and in the Summer, they need not worry about getting chilled in the cold air conditioning after being in the Colorado heat outside.  It will always be slightly cooler in The Barn in the Summer and slightly warmer in The Barn in the Winter….just wear what you wear outside in Colorado and you will be fine!  I just love this.
As the temperatures and seasons change in Colorado, The Barn also excels in another area… The Barn is really good at changing up the inventory we offer for sale to suit what is going on during the year. This month we are featuring the HUGE After-Holiday Sales, but we are already moving into having items out for Valentine's Day in February.  Many of the Barnie-Merchants are also traveling to all the major buying markets across the country to bring you the latest in fashion, home décor, art and many other wonderful and exciting items suited for the changing time of the year.  You can always count on the Barn to have the 'finger on the pulse' of the market and we strive to provide what our customers need and want at any given time.
Of course, we can never leave out our Barnie-Merchants who are also traveling the Midwest this month (and other areas of the country) to keep bringing you a stellar collection of Antiques, Vintage and Collectables for your shopping pleasure!
We will be having a Brand New Event on February 11th called the "Galentines Day"…named aptly for our lovely lady customers! Details will be coming soon but I will tell you that you will just LOVE the gift giveaway!
Stay warm and see you soon!