The Annual Mother's Day Tea Party Event was such a success that I wanted to share it with you…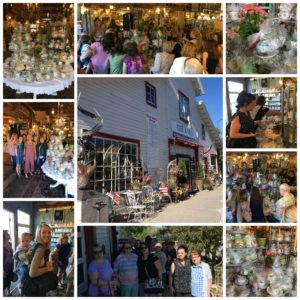 Preparing for our events requires lots of Barnie time and love. Every single tea cup is handpicked, wrapped and tied with a bow for our customers.  This year The Barn gifted over 200 lovely teacups!
I can't gush enough about the Barnie Merchants and their dedication to our customers.  These store owners are hardworking small business owners who volunteer their time to work at The Barn.  These lovely people not only work tirelessly at their own small business but they also selflessly work for (and with) each other to make The Barn a success.
We are moving into Summer (hopefully the snow is over for the time being) and we are already planning our June Event called "Summer Lovin' at The Barn" (think 'Grease' and 'The Beach Boys'). Look for event details on Facebook, our website (www.thebarncastlerock.com) and in your email within the next few days!  The punch that was served at the Mother's Day Tea Party was such a big hit, we will be serving it again at our June event!
Have a very happy and safe Memorial Day Weekend and plan a visit soon to The Barn for a Magical Shopping Experience!